Membership & Registration Procedures
We are happy that you have decided to join our group!
FLC Seniors's Club Membership
First, you need to be a member with the FLC Senior's Club. FLC Senior's Club membership is open to all seniors age 55+ and the cost is $15.00 per year, as revised 2017.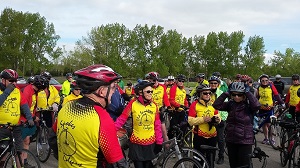 FLC Seniors Club memberships may be obtained at:
The Trico Centre
Guest Services – Lower Level
11150 Bonaventure Drive SE
Calgary, AB T2J 6R9
Membership runs from September 1st of the current year to August 31st of the following year and can be purchased or renewed at the Annual FLC Senior's Club Membership Registration day held in August each year.
Old Spokes Cycling Club Membership
Once you have your FLC Senior's Membership, you need to complete these steps to join the Old Spokes Cycling Club.
Please print and complete the following:
MAIL these two documents plus $5 cash (or cheque made out to FLC Seniors Cycling Club) for your Cycling Club membership fee to the Membership Coordinator.
To request the Membership Coordinator's mailing address fill out this e-mail form Use the subject 'membership'.
Please DO NOT leave your membership forms and fee at the Trico Centre administrative office.
Please print and complete the Medical Information Card (PDF) and carry it with you on all cycle trips.