FLC Seniors

Tile Rummy

Open to all FLC Seniors Club Members

November 30, 2020 update - Cancelled until further notice due to Covid restrictions.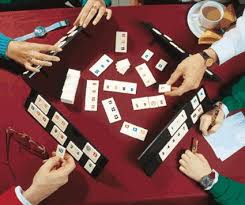 FLC Seniors Club Tile Rummy (also know as - Rummy-O or Rummikub) is a tile-based game for two to four players, combining elements of the card game rummy and mahjong. There are 104 number tiles in the game. An important feature of the game is that players can work with the tiles that have already been played. It is very easy to learn and a great way to boost your brainpower.
This is a Drop-In activity and FREE
Limited to 15 tables
Bring your own beverage
Location: FLC Seniors Lounge at the Trico Centre
When: Every Monday 10:15 am to 12:45 noon
This activity runs year round (except for statutory holidays).
Contact & Coordinator: Darlene Kendel at 403-281-1371
Contact by filling out this form ([email protected]).