FLC Seniors

Theatre Calgary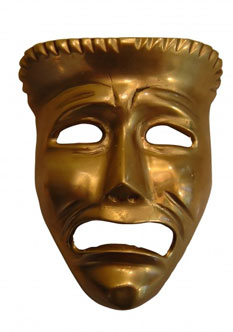 The FLC Seniors Club Theatre Calgary program involves attending a special Saturday afternoon Seniors Matinee for each play. While the Club does not provide transportation to these plays, there is easy access via the LRT as well as always plenty of parking spaces available within walking distance from the theatre. By booking through our Club, members benefit from the group rate for some of the best seats in the House and enjoy a pre-show reception exclusively for seniors.
Location: Theatre Calgary - 220 9th Ave S E
When: Saturdays at 2:00 pm.
FLC Seniors Theatre Calgary 2018-2019 Season
Saturday September 22: HONOUR BEAT

A look at the significance of faith and family. Two sisters confront one another and their own identities, and what will remain when their mother passes away. The play will leave you laughing through your tears as they grabble with one of life's most difficult inevitabilities.
The ticket price for this play is only $35.00
Saturday November 3: MARY AND MAX. A NEW MUSICAL
Based on an Australian Clymation film, it is a hilarious and heartening tale that proves frienship can be found in the unlikeliest places. Join 10 year old Mary from Melbourne as she writes her way in the life of Max , a 44 year old New Yorker with Asperger Syndrome. Their frienship is one you will never forget.
The ticket price for this play is $45.00
Saturday December 15: A CHRISTMAS CAROL
Theatre Calgary maintains the tradition of presenting Charles Dickens' play at this time of the year, and one of the highlight of this year's show is that Stephen Hair is playing the role of Ebenezer Scrooge for the 25th year.
The ticket price for this play is $47.00
Saturday February 2 2019: BOOM
Rick MiIler, who gave us his one man show BOOM a coupleof years ago, is back where he left us then, that is at Woodstock in 1969. Some of the characters from then reappear (Elvis gets fat, Lennon gets shot and Reagan gets elected) but the focus turns from his mother to his own story. The show follows Generation X as it navigates the legacy of the Baby boom.
The ticket price for this play is $45.00
Saturday March 16 2019: THE SCARLET LETTER
Adapted from Nathaniel Hawthorne novel, we're in 1642 and Hester Prynne has been branded an adulterer by her Puritan village and forced to wear the titular scarlet letter as repentance. In this modern adaptation, Hester is unashamed and proudly subverts the rigid standard put upon women to be virtuous and good.
The ticket price for this play is $45.00
Saturday April 27 2019: BILLY ELLIOT THE MUSICAL
This Tony Award winning musical is set in working class England where young Billy dreams of being ballet dancer, but his widowed father cannot understand his son's passion. The show will be choreographed by Yukichi Hattory, former Alberta Ballet principal dancer, and will feature the best and brightest of Calgary's Dance community.

The ticlet price for this musical play is $52.00
NOTE:
Club members who have participated to the Seniors Matinee, or have expressed interest in it, will receive emails, reminding them of each play, about five weeks prior to the Seniors Matinee of that play.
Contact & Coordinator: John Buysschaert at 403-271-0622
Contact by filling out this e-mail form. ([email protected])
Read more about our other FLC Seniors Club theatre groups.
No upcoming plays have been scheduled.