FLC Seniors

Theatre Calgary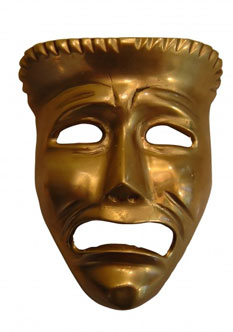 The FLC Seniors Club Theatre Calgary program involves attending a special Saturday afternoon Seniors Matinee for each play. While the Club does not provide transportation to these plays, there is easy access via the LRT as well as always plenty of parking spaces available within walking distance from the theatre. By booking through our Club, members benefit from some of the best seats in the House and enjoy a pre-show reception exclusively for seniors.
Location: Theatre Calgary - 220 9th Ave S E
Box Office: 403-294-7447 - Monday to Friday 9 am to 5 pm
Ticket Price: Level 3 $50.00
When: Saturdays - Doors open at 1:00 pm and shows start at 2:00 pm
Please note the following changes for the 2021-2022 season:
FLC members will be required to contact the theatre box office 403-294-7447 to purchase their tickets and make seat selections. Please identify yourself as a FLC Senior Club member.
Emails advising members of upcoming plays will no longer be sent.
FLC Seniors Theatre Calgary 2021- 2022 Season
Seniors are invited to the Theatre Calgary Upper Lobby for conversations with artistic staff and artists prior to the performance. Snacks will not be offered prior to the performance.
---
BOOM YZ
November 6, 2021
The world premiere of Rick Miller's electrifying BOOM YZ brings to life the people and music that have shaped our last quarter-century. In this all-new show, Miller plays more than a hundred characters from Generations Y and Z, including his own daughter, to reflect on the aspirations and anxieties of young people today, and brings his multi-generational BOOM series to a compelling close. There is no better way to return to our theatre than with the visual wonder and spectacle of music, personal stories and multimedia that Miller ignites on stage. We are thrilled to welcome Rick back!
---
A CHRISTMAS CAROL
December 18, 2021
In 2020, Theatre Calgary reimagined our beloved holiday classic as a filmed production, so that an annual Calgary tradition could not be missed. Through intimate multicharacter performances by a cast of three (including Stephen Hair), they once again took their audiences on the remarkable and inspiring journey of Ebenezer Scrooge, Tiny Tim and the spirits of Christmas Past, Present and Future.
For their 2021–22 season, Theatre Calgary will perform this three-person cast production live on their stage. Patrons will also have the opportunity, if preferred, to choose Stafford Arima's extended director's cut of the online filmed version of A Christmas Carol, which they can watch from the comfort of their home.
---
STEEL MAGNOLIAS
March 26, 2022
All the ladies who are "anybody" come to gossip and have their hair done by Truvy in her Chinquapin, Louisiana salon. Sharing their stories, laughs and tears, Steel Magnolias is the much-loved hit play featuring six amazing women who draw upon their strength and love to meet the challenges of life. Part comedy of manners, part heartfelt tearjerker, and featuring non-stop banter and wisecracks, this play about friendship, community, and the power of the human spirit is what we all need right now.
---
MILLION DOLLAR QUARTET
May 14, 2022
Four rock n' roll legends are brought together in Memphis, Tennessee at Sun Record Studios for an impromptu jam session. Prepare for a blast from the past! It's December 4, 1956, you are in the recording studio with Johnny Cash, Jerry Lee Lewis, Carl Perkins and Elvis Presley. You see them play together for the first and only time. These nostalgic rock n' roll classics will have you wanting to jump out of your seat to dance. What a way to close out our season!
---
Contact & Coordinator: Contact by filling out this e-mail form. ([email protected])
Read more about our other FLC Seniors Club theatre groups.
No upcoming plays have been scheduled.