FLC Seniors

Theatre Calgary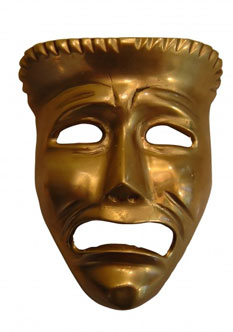 Theatre Calgary holds a special Saturday afternoon Seniors Matinee during each play run. While the Club does not provide transportation to these plays, there is easy access via the LRT and there are plenty of parking spaces available within walking distance to the Theatre. The Theatre opens at 1:00 pm for these matinees and seniors are invited to the Upper Lobby for conversations with artistic staff and artists prior to the performance.
Location: Theatre Calgary - 220 9th Ave S E
Box Office: 403-294-7447 - Monday to Friday 9 am to 5 pm
Ticket Price: Level 3 $50.00
When: Saturdays - Doors open at 1:00 pm and shows start at 2:00 pm
The following changes began with the 2021 season:
FLC members will be required to contact the theatre box office 403-294-7447 to purchase their tickets and make seat selections. Please identify yourself as a FLC Seniors Club member to obtain the seniors' pricing.
Emails advising members of upcoming plays are no longer being sent.
Theatre Calgary 2022- 2023 Season
Energize Your Soul

"The inspiration for this season is about the triumph of the human spirit. No matter who you are or where you come from, we've all had to overcome some sort of adversity. The gift of theatre is its ability to move, touch, and inspire an audience through storytelling. Stories let us share situations in a way that creates an emotional connection with the characters on the stage, and inevitably with ourselves and our lives. The power of those connections gives space for us to realize that on a human level, we are all basically the same. We love, we laugh, we hurt, we learn."
- Stafford Arima, Artistic Director
Seniors are invited to the Theatre Calgary Upper Lobby for conversations with artistic staff and artists prior to the performance. Snacks will not be offered prior to the performance.
---
Lady Day at Emerson's Bar and Grill
October 1, 2022
It's March 1959, and in an intimate, seedy Philadelphia bar, Billie Holiday takes the stage for one of her final performances. Treat yourself to one powerhouse night of jazz, including her most memorable songs like "What a Little Moonlight Can Do", "Strange Fruit", and "God Bless the Child". Told alongside the honest, riveting, and heartbreaking story of the singer's life, Lady Day at Emerson's Bar and Grill will mesmerize you in a musical evening you won't soon forget.!
---
The Importance of Being Earnest
November 12, 2022
Wealthy gentlemen Jack and Algernon have chosen to lead double lives to evade the tedium of polite society. However, when they attempt to win the love of two women who declare they will only love a man called Ernest – chaos begins. The Importance of Being Earnest is a tale of mistaken identities, rapid–fire wit, and cucumber sandwiches. Enjoy an evening of theatre laughing out loud. There may not be a funnier, more socially insightful play chock–full of eccentric characters than this masterpiece by Oscar Wilde.
---
Little Women
December 24, 2022
This coming of age war–time story about a family during the holidays is a tale that has been cherished for generations. Jo March isn't your typical Victorian lady. She is unconventional and headstrong. And she is convinced that one day she will be a great novelist. But tumultuous times surround her and her sisters. They need to be imaginative, wise, and brave – all while approaching adulthood in Civil War America. Louisa May Alcott's classic novel adapted by Kate Hamill is sure to bring warmth and joy to your holiday season.
---
Little Red Warrior and His Lawyer
February 18, 2023
Little Red is the last remaining member of the Little Red Warrior Nation. One day Red discovers that a land development firm has violated his traditional territory. In a fit of rage, he attacks one of the engineers, gets arrested, and is assigned a court–appointed lawyer. Things turn satirical when a displaced Red moves in with the lawyer and his wife. And when you invite a coyote into the coop, they may just walk off with your chickens. This biting new satire by Governor General's Award-winning playwright Kevin Loring will leave you with plenty to talk about after the lights come up.
---
World Premiere
Forgiveness
March 25, 2023
Forgiveness is the acclaimed 2018 Canada Reads–winning novel by Mark Sakamoto. It's a memoir of Sakamoto's grandparents and their harrowing experiences during the Second World War. Mark's maternal grandfather was a Canadian soldier who spent years as a prisoner of war in a Japanese camp. His paternal grandmother was one of the thousands of Japanese–Canadians interned by the Canadian government during the war. In the face of tremendous adversity and transgressions, they chose not to live a life of anger but instead to embrace and teach forgiveness. Be prepared to be moved by this Governor General's Literary Award-winner Hiro Kanagawa's heartfelt adaptation.
---
Escape to Margaritaville
May 6, 2023
Find your parrot shirt, grab your flip-flops, and head to Margaritaville – where a part–time bartender and singer in a rundown hotel in the tropics has fallen for a serious career–minded tourist. This musical comedy features popular Jimmy Buffett classics, including "Cheeseburger in Paradise", "Margaritaville", "It's Five O'Clock Somewhere", "Fins", "Volcano", and more. Created by Jimmy Buffett and Emmy Award winner Greg Garcia and Emmy nominee Mike O'Malley, this hilarious, heartwarming musical is not to be missed!
---
Contact & Coordinator: Contact by filling out this e-mail form. ([email protected])
Read more about our other FLC Seniors Club theatre groups.
No upcoming plays have been scheduled.