FLC Seniors

Theatre Calgary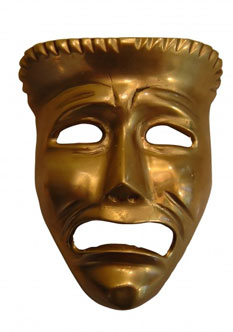 The FLC Seniors Club Theatre Calgary program involves attending a special Saturday afternoon Seniors Matinee for each play. While the Club does not provide transportation to these plays, there is easy access via the LRT as well as always plenty of parking spaces available within walking distance from the theatre. By booking through our Club, members benefit from the group rate for some of the best seats in the House and enjoy a pre-show reception exclusively for seniors.
Location: Theatre Calgary - 220 9th Ave S E
When: Saturdays at 2:00 pm.
FLC Seniors Theatre Calgary 2019 - 2020 Season
The ticket price for this play is $48.00
Saturday March 28 2020: ADMISSION
Sherri Rosen Mason is the Admission Director of a prestigious college-prep school in New Hampshire. She aims to change the school for the better by increasing inclusivity and diversity, but her only son's future gets in the way of her liberal white beliefs when he sets his sights on an Ivy League university. Personal ambition collides with progressive values, with convulsive results.
Two years ago the play was awarded five stars both in London and New York, and the Press called it a bold comedy, provocative, outrageous and entirely gripping with an honest and hilarious depiction of humanity. The right play we can expect from Joshua Harmon, the author of "Bad Jews" the comedy we really enjoyed in one of our matinees two years ago.

The ticket price for this play is $48.00
Saturday May 9 2020: MILLION DOLLER QUARTET
Four Rock n'Roll legends are brought together in Memphis Tennessee at Sun Record Studios for an impromptu jam session. Prepare for a blast of the past! You are in the recording studio with Jonny Cash, Jerry Leee Lewis, Carl Perkins and Elvis Presley. You see them play together for the first and only time. These nostalgic classicwill have you wanting tojump outof your seat to dance.

The ticlet price for this musical show is $55.00
NOTE:
Club members who have participated to the Seniors Matinee, or have expressed interest in it, will receive emails, reminding them of each play, about five weeks prior to the Seniors Matinee of that play.
Contact & Coordinator: Seeking a Coordinator - contact Pam Nutter at [email protected]
Contact by filling out this e-mail form. ([email protected])
Read more about our other FLC Seniors Club theatre groups.
No upcoming plays have been scheduled.