FLC Seniors

Acting Club

The purpose of the FLC Acting Club is to provide a variety of learning experiences from Playwrighting to Improv; to traditional and not so traditional acting techniques, to give the participant a well rounded training and deeper understanding of live theatre and how it works.

Most importantly, we strive to make our classes as affordable and fun for seniors as possible.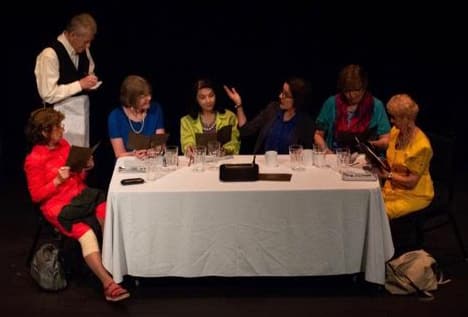 ---
What & When
The Winter Session of the FLC Acting Club Classes ended on April 1.
We look forward to our line up of Instructors and Classes beginning this Fall on Monday, September 9th in the Seniors' Room.
The FLC Acting Club will offer the following five classes in its Fall Session:
September 9, 16, 23, and 30th:
Introduction to Improv- Instructor Alvan Li- 6:30-8:00 pm
Introduction to Acting- Instructor Erin Noble- 8:00-9:30 pm
October 7, 21, 28, & November 4:
Improv Level 2-Instructor Alvan Li- 6:30-8:00
October 7, 21, 28, & November 4, 18, 25:
Playing with Shakespeare- Instructor Trevor Ruegar- 8:00-9:30 pm
November 18, 25 & December 2 and 9:
Acting Level 2- Instructor Megan Fox- 6:30-8:00 pm
Classes(most run 4 Mondays) start at $40.00 for the first class for FLC Members. Each additional class attended will cost another $20.00 to a maximum cost of $100.00 for all 5 Fall classes.
Registration for classes will be held at the Trico Centre on Saturday, August 24 from 9:30 to 1:30 pm or you can preregister by contacting the Acting Club Coordinator.
For detailed information on the classes and/or instructors background please contact:
Coordinator: Louise Day
Contact her by filling out this e-mail form or by emailing [email protected]
---