FLC Seniors

Acting Club
Hello All THEATRE Lovers
FLC Acting Club Presents:
Two One-Act Plays about seniors seeking relationships!
Cornbread and Beans written by Earl Reimer and directed by Mya Hands. Two seniors, who hire a dating service, meet in a restaurant for the first time. Featuring: Terry Brown, Trish Clark and Carolyn Wright-Stronski.
Lollipop, Anyone? written by Carolyn Wright-Stronski, dramaturgy by Trevor Rueger and directed by Helen Young. Seniors in a retirement residence resort to some clever tactics to form relationships with other single seniors. Featuring: Rose Bene, Dianna Campbell-Smith, Randy Day, Jeff Gottfredsen, Ron Kuehne and Normandie Sproule.
When: June 8th to 11th, 2022
Matinees: 2:30 p.m. (June 8th & 10th) Evenings: 7:00 p.m. (June 8th through 11th)
Where: Knox United Church (Lower Theatre), 506 - 4th St. S.W, Calgary, Alberta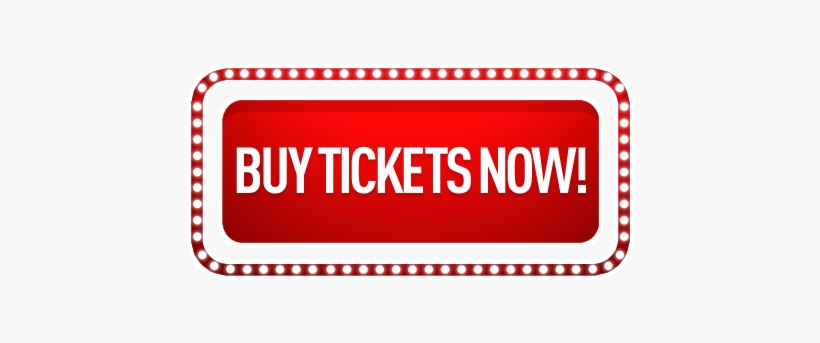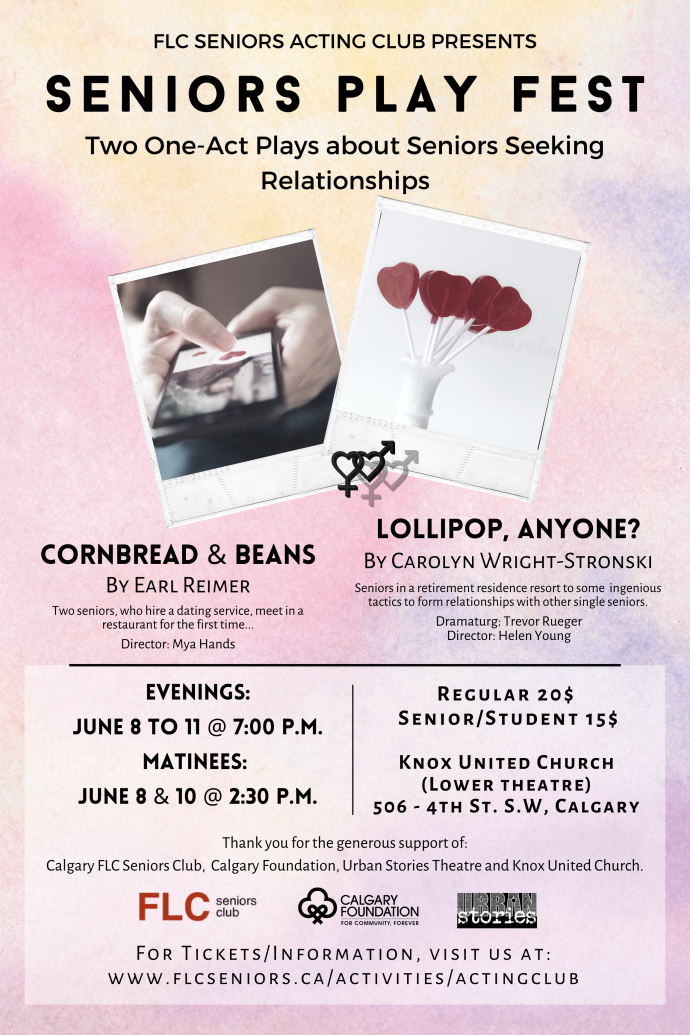 These plays are made possible through the generous support of Calgary FLC Seniors Club, Calgary Foundation, Urban Stories Theatre and Knox United Church.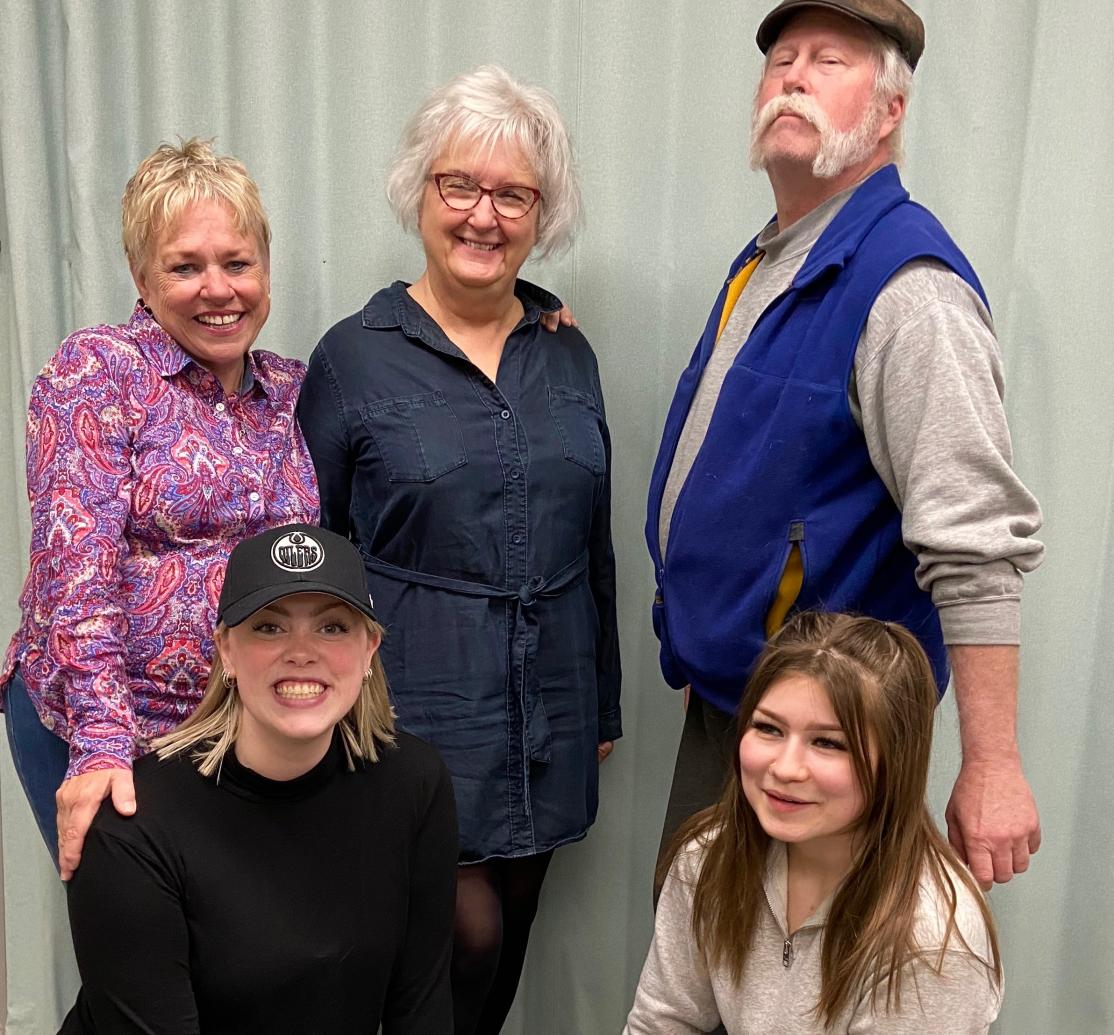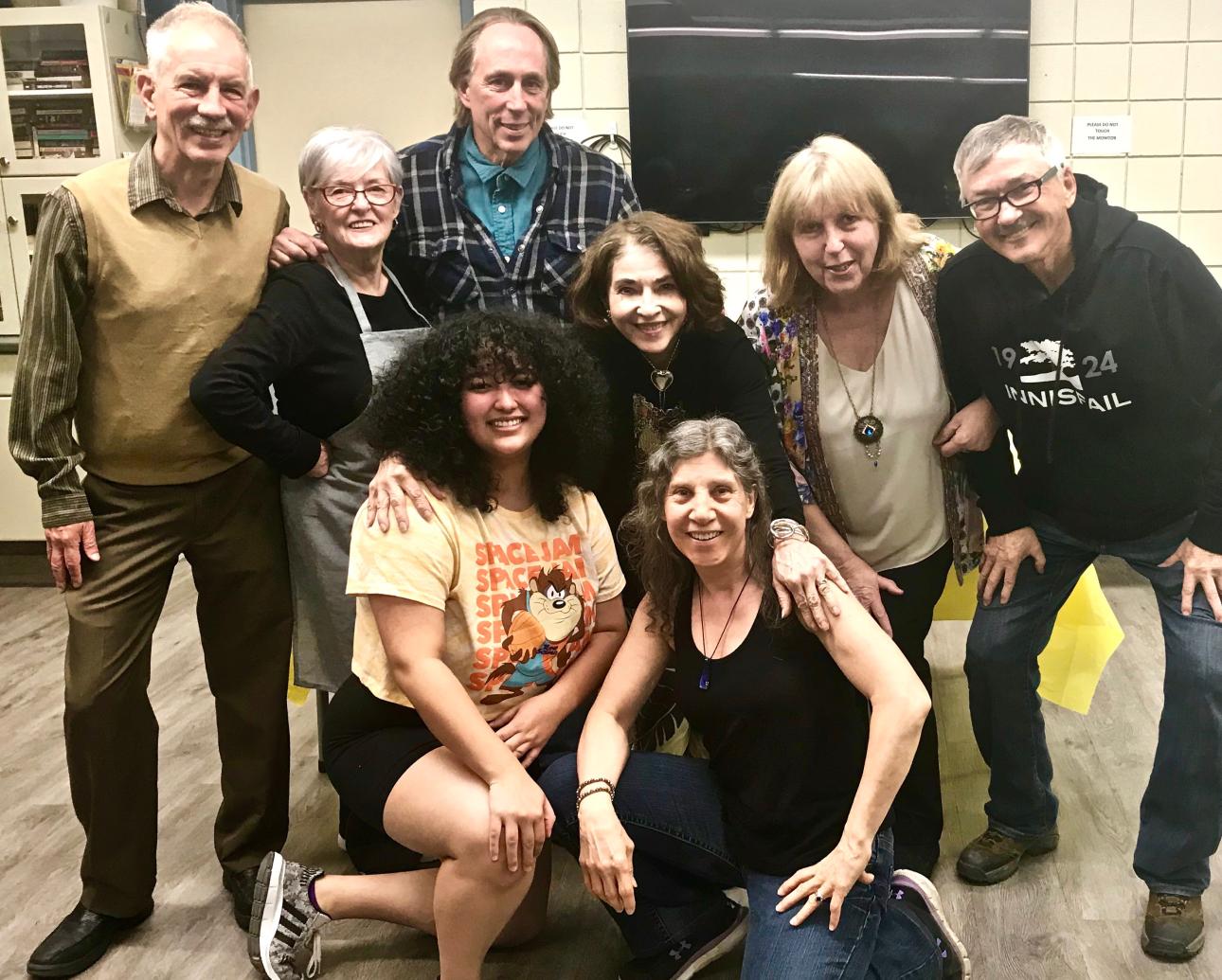 Cast, Director and Crew from Cornbread and Beans Cast, Director and Crew from Lollipop, Anyone?
Our Fall 2022 classes
Upcoming Fall 2022 classes to be announced soon.
STEPS TO REGISTER:
In order to register for these courses, you must first become a member of the FLC Seniors Club. Membership is a nominal annual fee of $15. Please click on the following link to register for your membership: https://www.flcseniors.ca/membership
To register for Acting Club classes please fill out this form with a list of the classes you want to take and email to acti

[email protected]

OR click Send. Please do not send payment with registration, see below for payment information.
PAYMENT OPTIONS:
☐ Cheque ☐ E-Transfer ☐ Receipt Required (will be emailed)
Once you have registered, you will be given instructions on how to submit your payment.
Please indicate which classes you are taking on your cheque or your E-Transfer.
Withdrawal policy:
Participants who submit a written withdrawal from the class 7 days prior to the first session will receive a full refund.
Participants who submit a written withdrawal from the class after the first session will receive a prorated refund (total amount of class minus the first session).
Participants who withdraw from the class after two sessions will not be eligible for a refund.
Contacts:
Contact the following people at [email protected]
Coordinator: Rose Bene Assistant Coordinator: Carolyn Wright
Membership and Registration: Carolyn Wright