FLC Seniors

Acting Club
FALL 2020 UPDATE
Hello Acting Fans and Fellow Thespians! FLC (+55) Acting Club is continuing to thrive online! We are taking advantage of the Internet's capabilities to tap into our inner dramatic sensibilities. Our goal is to help you achieve one of the items on your bucket list, whether that is performance or working on a production.
OUR Purpose
The purpose of the FLC Acting Club is to provide a variety of learning experiences from traditional and not so traditional acting forms/techniques to Playwrighting, Directing and other aspects of producing a play. We endeavour to give you a well rounded training and deeper understanding of live theatre and how it works. Most importantly, we try and make our classes as affordable and fun for seniors as possible!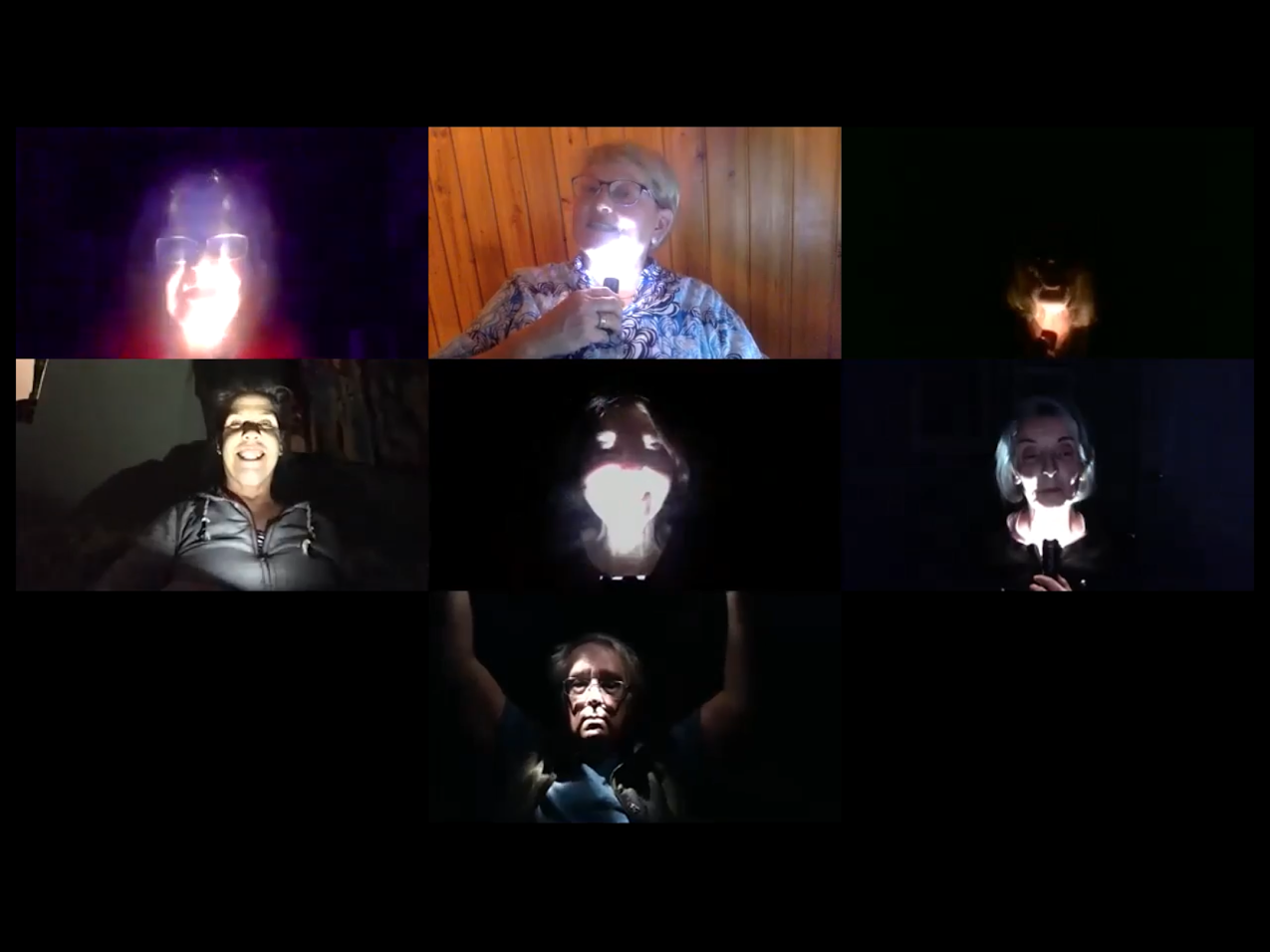 Our participants having fun with lighting
in Stage Management Class
OUR CLASSES
| | | |
| --- | --- | --- |
| Classes Coming Up | Dates (Fall 2020) | Time (in Calgary) |
| Demystifying Shakespeare: Instructor Trevor Rueger | Oct. 19, 26 & Nov. 2, 9 | 6:15 pm to 7:45 pm |
| Acting Level II: Instructor Megan Fox | Oct. 19, 26 & Nov. 2, 9 | 8:00 pm to 9:30 pm |
| Playwrighting Level I: Instructor Trevor Rueger | Nov. 16, 23, 30 & Dec. 7 | 6:15 pm to 7:45 pm |
| Auditioning for Stage: Instructor Erin Noble | Nov. 16, 23, 30 & Dec. 7 | 8:00 pm to 9:30 pm |
Please click on the following PDF to find out more about these courses and their instructors. The duration of each class is 1.5 hours for 4 weeks. All the instructors have worked very hard to adapt and create new and innovative content for you to explore online. We have something for everyone, from those just beginning this journey to those who have already taken some of these courses.
COSTS:
For one class: $40 For 2-5 classes: $30 each or a total of $120 for 4 classes. *This works out to approximately $10 or less for each class.
Take advantage of this wonderful opportunity to discover the world of theatre in the comfort of your own home! No winter driving or parking required!! Once you register with us, we will walk you through the process of how to access these courses online.
STEPS TO REGISTER:
In order to register for these courses, you must first become a member of the FLC Seniors Club. Membership is a nominal fee of $15. Please click on the following link to register for your membership: https://www.flcseniors.ca/membership
To register for any or all of the above classes please fill out this form with a list of the classes you want to take and email to

[email protected]

OR click Send.
PAYMENT OPTIONS:
☐ Cheque ☐ E-Transfer ☐ Receipt Required (will be emailed)
Please make cheques out to FLC Seniors Acting Club and phone Faye Brown at 587-890-2933 for mailing address. OR send an E-Transfer with the payment for the classes to [email protected]
Please indicate which classes you are taking on your cheque or your E-Transfer.
CONTACTS:
Contact the following people at [email protected]
Coordinator: Rose Bene Assistant Coordinator: Carolyn Wright
Membership and Registration: Faye Brown