FLC Seniors

Acting Club

The purpose of the FLC Seniors Acting Club is to provide a variety of learning experiences from Playwriting, to Improv, to actual classes in traditional and not so traditional acting techniques, to give the participant a well rounded training and deeper understanding of live theatre and how it works.

Most importantly, we strive to make our classes as affordable and fun for seniors as possible.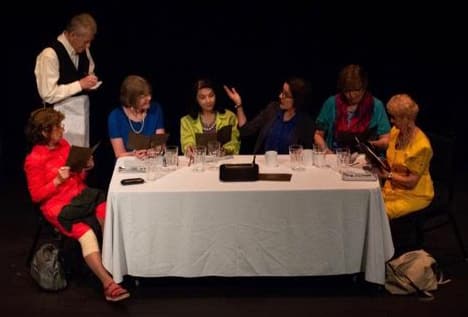 ---
What & When
The Winter Session of the FLC Acting Classes ended on April 1.
We look forward to a new line up of Instructors and Classes beginning this Fall on Monday, September 9th.
Stay tuned for our list of exciting classes which will be on this webpage by mid August. For more information about the classes or to preregister online please contact:
Coordinator: Louise Day
Contact her by filling out this e-mail form or by emailing [email protected]
---
Getting ReAdy for the Production
Students from last years classes are working hard rehearsing for the upcoming Two One Act Plays for Seniors Week.We auditioned for cast early in April and gave priority to those who have taken our acting courses in the past 2 years. Rehearsals will run throughout April and May. We will also be looking for volunteers for help with makeup, wardrobe, set changes and stage management and ushering. Contact us through [email protected]. if you'd like to participate.
FLC SENIORS ACTING LAB
PRESENTS
TWO ONE-ACT PLAYS:
Help celebrate Seniors Week this June by joining us as we take a humorous and sometimes tragic look at two issues facing seniors on a daily basis; an ageist world and the search for affordable housing.
MORE THAN A NUMBER
5-card playing friends debate whether ageism really exists and what form it takes in their individual lives. The play opens with an argument between two partners, one of whom is an aspiring actor named Grant. Grant has taken their travel funds and spent it all on hair plugs, botox and fillers without telling the other partner, Sarah Beth. Then the plot takes delightful twists and turns as each character presents their point of view on ageism depending on their individual circumstances. This is an original play directed by Megan Fox and dramaturged by Trevor Ruegar.
ALL THE COMFORTS OF HOME
Gracie, Miranda and Sarah live a quiet, normal life but when they find themselves on the hunt for a new roommate it seems they may be at risk of scandalizing the neighbors! Even once they've wrapped their heads around having a man in the house, nothing could prepare them for what happens next…….
Written by Howard Amends. Directed by Erin Noble
Click here to read what Calgary Prime Time says about the plays
Sundays: June 2 and 9
2:00 pm & 7:00 pm

Lunch Box Theatre
160 – 115 9 Ave. SE, Calgary

Tickets: $20.00 Regular/ $15.00 Student/Senior

Available through
Lunchbox Theatre at 403-265-4292 ext 0
or online
or go directly to tickets sales page
Please email Louise Day at [email protected] or call 403-256-4831, if you would like more information about these productions or Affordable Acting Classes for Seniors in the Fall.