FLC Seniors

Tai Chi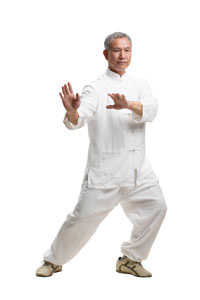 Tai Chi is a centuries-old Chinese Martial Art consisting of slow, rhythmic, and focused movements that promote peace, calm, and strength by harnessing ones personal energy into unique flow patterns. FLC Seniors offers Cai Tai Chi which is based on the 105 movement traditional Yang Style, the most popular form practiced in China.
Benefits of Tai Chi:
Tai Chi has become very popular among seniors for achieving and maintaining good health and a sense of well being. In one study, adults in their 60s and 70s, who practiced Tai Chi three times a week for 12 weeks (1 hour classes), were given a battery of physical fitness tests both before and after trial intervals. Statistically significant improvements were observed in balance, muscular strength, endurance, and flexibility measures after only six weeks, and they increased further by the end of the 12 weeks.
Additional
benefits reported from the continuous practice of Tai Chi:
√ Improvement of posture, core area strength, and mental focus
√ Reduction of pain, stress, and blood pressure levels.
√ Studies suggest a 150 lb. person can burn 270 calories per hour.
√ One study showed that practicing Tai Chi may assist in

maintenance of the immune system.
√ Bonus enjoyment through relaxation and fun in a sociable group environment.
Instructors: Our classes are taught by Master Geng Z. Cai and Master Vicky Wu, two world-class instructors. They use their own Cai method of instruction emphasizing the inner Chi. The movements are presented in an invigorating yet relaxing exercise format where students are encouraged to focus on the quality, rather than quantity, of movements learned.
Location: Trico Centre, 11150 Bonaventure Drive SE (east of the Southcentre Mall).
Classes: Thursdays (1 hour classes)
Fall 2019 - September 12 to December 5 (11 weeks - No Classes Oct 17 & 24)
| | | |
| --- | --- | --- |
| Level 1 (Beginner) | 11:00 AM | $70 |
| Level 2 * | 9:45 AM | $70 |
| Level 3 * | 12:15 PM | $70 |
| Level 4 * | 12:15 PM | $70 |
| Level 5 * | 11:00 AM | $70 |
| Level 6 (Advanced) * | 9:45 AM | $70 |
*Levels 2 through 6 are only for those with previous experience with Cai Tai Chi*
Registration:
All participants must be members of the FLC SENIORS CLUB.

For CLUB registration information, click "

MEMBERSHIP INFO

" at the top of this page.
For TAI CHI registration information, contact Registrar, Juliette

,

by

filling out this e-mail form ([email protected])
For other information, contact Coordinator by filling out this e-mail form ([email protected])
Coordinator: Juliette Lemieux-Gordon 403-225-1593