FLC Seniors

Tai Chi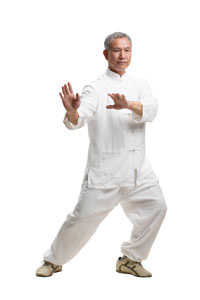 Tai Chi is a centuries-old Chinese Martial Art consisting of slow, rhythmic, and focused movements that promote peace, calm, and strength by harnessing ones personal energy into unique flow patterns. Seniors, in particular, have reported the many benefits of Tai Chi when practiced on a regular basis:
√ Improved balance, endurance, and flexibility
√ Reduced pain, stress, and blood pressure levels
√

Improved posture, core area strength, and mental focus
√ Improved health, and a sense of well being.
FLC Seniors offers Cai Tai Chi which is based on the 105-movement traditional Yang Style, the most popular form practiced in China.
Instructors: Our classes are taught by Master Geng Z. Cai and Master Vicky Wu, two world-class instructors who use their own Cai method of instruction. Students are taught in a friendly and sociable group environment, and are encouraged to focus on the quality, rather than quantity, of movements learned.
Location: Trico Centre, 11150 Bonaventure Drive SE (east of the Southcentre Mall)
Schedule: Tuesdays and Thursdays
*** COVID-19 Repercussions ***
ONCE THE TRICO CENTRE RE-OPENS to the FLC SENIORS CLUB, our modified schedule will accommodate Social Distancing Rules. This is our second tentatively modified schedule, which may be modified again!
Please note that Registration is NOT OPEN at this time. However, inquiries are being accepted.
Level 1 (Beginner)
TUESDAY
Vicky
9:45 AM - 10:45 AM
$70 - $80

?

Level 1 (Beginner)
THURSDAY
Vicky
9:45 AM - 10:45 AM
$70 - $80

?

Level 2 *
THURSDAY
Vicky
11:00 AM - 12:00 PM
$70 - $80

?

Level 3 & Level 4 *
TUESDAY
Master Cai
9:45 AM - 10:45 AM
$70 - $80

?

Level 5 & Level 6 *
THURSDAY
Master Cai
11:00 AM - 12:00 PM
$70 - $80

?

Level 7 *
THURSDAY
Master Cai
9:45 AM - 10:45 AM
$70 - $80

?
Level 1 starts at Movement #1; Level 2 starts at Movement #8; Level 3 starts at Movement #20; Level 4 starts at Movement #30; Level 5 starts at Movement # 38; Level 6 starts at Movement #53; Level 7 starts at Movement #94 as well as providing a review for those who have learned all the Movements
* Levels 2 through 7 are for those with previous experience with Cai Tai Chi
Fall 2020 --> September/October to December

(Dates to be finalized)

Winter 2021 --> January to March

(Dates to be finalized)

Spring 2021 --> April to June

(Dates to be finalized)
For Tai Chi Registration & Information on Levels:
For FLC Seniors Club Membership Information: As all participants must be members, please click on "MEMBERSHIP INFO" at the top of this page.
For other information, contact the Coordinator by filling out this e-mail form ([email protected])
Coordinator: Anne Payne 403-278-9150