FLC Seniors

Outdoor Club

Our activities have resumed.

* * * * * * * * * * * * * * * * * * * * * * * *

FLC Seniors and Outdoor Club membership - please see information at the bottom of this page.
Eared Grebe at Frank Lake July 3, 2021
Glenmore Reservoir Challenge August 25, 2021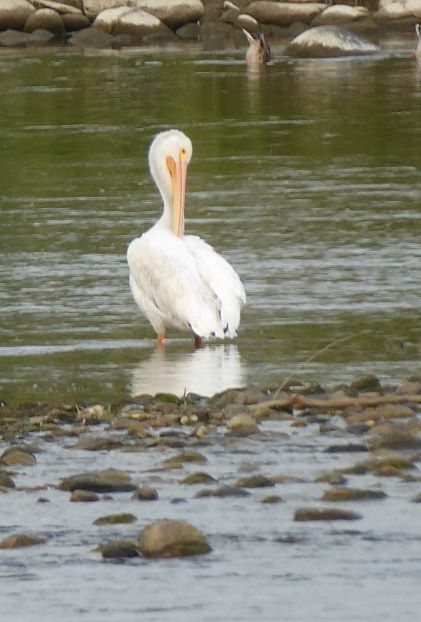 Pelican seen on Cranston Ridge walk, along the Bow River, Sept 8, 2021 (Marilyn P. photo)
Welcome to the FLC Seniors Outdoor Club. Our club walks throughout the year; bird watching and snowshoeing are seasonal. We also have some special events.
All events and activities are for Outdoor Club members only. See Membership Information for how to join at bottom of page (scroll down).

We ask that everyone wear their name tag, bring their FLC Seniors membership card and carry their Medical Emergency Card on all outings (medical emergency card is available at the first activity attended) .

Information on activities - meeting locations and times are available on this web page.

Information about Special Events may be sent through email messages.
WALKING
We have 2 walking groups: Leisure Walkers (2 levels) and Intermediate Walkers. Spring and summer walks are mainly taken along the many pathways around Calgary and are selected for the scenery and interest they offer to seniors. Starting points vary and participants are expected to reach these points by their own arrangements on time. Join the group which best meets your needs. Both groups are welcoming and social.
Intermediate Walkers
Walks are 8 - 10+ km long, 1 1/2 - 2 1/2 hours long, with variable terrain.
Contact & Coordinator: Jane 403-287-1593
September 22 9:30 AM Burnsmead, Fish Creek Park
Meeting Place:
Burnsmead parking lot - we will meet in the parking lot.
Directions:
Go south on Bow Bottom Trail SE. Turn left on 153 Ave. SE. Take 2nd right into Burnsmead Parking Lot.
Details:
To be announced. It's an adventure! Some hills. Length - about 8 km and 1.5 - 2 hours.
Leader: Diana 403-271-0364
Leisure Walkers
We are offering two levels of walks. LEVEL 1 will be 1½ hours long and approximately 5 to 6 km. LEVEL 2 will be 1 hour long and approximately 4 to 5 km. Both walks will always begin at the same location announced on this Outdoor Club web page each week for the following Wednesday.
Contact & Coordinator: Dagmar 403-239-3278
September 22 10:00 AM Mallard Point, Fish Creek Park
Meeting Place:
Mallard Point parking lot
Directions:
Go south on Bow Bottom Trail SE. Turn left (east) on Canyon Meadows Dr. Continue to the parking lot at the very end of Canyon Meadows Drive.
Route Details:
We will walk north over the bridge and continue to Deerfoot and toward Quarry Park and return. Afterwards, we will meet at McDonald's for coffee. Please bring proof of vaccination.
Leader: Leaders will be Ev and Dagmar (403-239-3278).
Location: Calgary and surrounding area.
When: Birding activities are usually scheduled in April, May, June and sometimes September/October. Remember your binoculars (or camera if you prefer). New birders are welcome.

Contact & Coordinator: Jennifer Bryden, 403-870-3817
Contact by filling out this e-mail form. ([email protected])
SNOWSHOEING
Snowshoeing will focus on winter enjoyment in Calgary and surrounding areas. Outings will vary in time from 2 – 5 hours depending on location. We will have 2 groups – Intermediate Group, and Leisure Group whose outing location, pace and length will be geared to the participants.
Locations:
Calgary - Fish Creek areas, Maple Ridge Golf Course, Cross Conservation Area, Bragg Creek, Sandy McNabb area, and Kananaskis Country.
Leisure Group - enjoy 2 hours of snowshoeing; Intermediate Group - over 2 hours.
COME EARLY, HAVE EQUIPMENT ON, ADJUSTED AND BE READY TO START AT 10:00 AM (unless another start time is posted).
Weather Guidelines: We will snowshoe at temperatures up to -15C with no wind, or -10C with a slight wind. Please check the weather forecast for 10:00 AM. It will be our source for weather. Come dressed in layers; bring snacks, water (and a lunch - Intermediate Group). Please remember your medical cards, poles, gaiters, snowshoes and icers.
Please check here for changes or cancellations of snowshoeing outings every Friday morning in winter before 8 AM.
Leisure Group:
No group outings were organized through the Outdoor Club in November/December 2020 and 2021 due to the Covid-19 pandemic. A coordinator is needed.
Contact & Coordinator: vacant
Intermediate Group:
The last event was on November 20, 2020, enjoyed by all. FURTHER ACTIVITIES ARE

SUSPENDED UNTIL ALLOWED and the season returns.
Contact & Coordinator:

Bob MacNeill, 780-505-0000
UPCOMING OUTDOOR CLUB EVENTS (CALGARY AND AREA)
No Events Scheduled at this time.
Event:
When:
Where:
Registration:
You must have renewed your FLC membership and be current Outdoor Club member (either renewed automatically or become a new member as described below) to register and attend.
Note: Outdoor Club Executive and persons assisting with events may be on the list before sign up opens to Outdoor Club members. No refunds for paid events will be considered after payment is completed.
FLC Seniors Outdoor Club President:
Contact: Phyllis Thornton, 403-272-4108
Contact by filling out this e-mail form. ([email protected])
Membership Information:
Current Outdoor Club members will automatically be renewed at no charge for the 2021-22 membership year. You still must renew your FLC Seniors Club membership. New FLC Seniors members may join/purchase an Outdoor Club membership for $5.00. This is done through the FLC website - Membership. Go to Membership Info, Renew or Sign Up Online. Select Activities - Sign Up. Select Outdoor Club from List. For more information:
Contact: Jane Braathen, 403-287-1593
Contact by filling out this e-mail form. ([email protected])
There are no events scheduled.