FLC Seniors

Qigong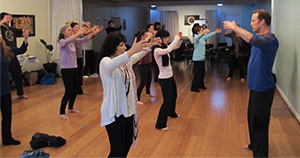 Qigong (Chee Gong) is available for all FLC Seniors members.
Qigong is an ancient Chinese Health Care System that integrates physical postures, breathing techniques, meditations and focused intention. The gentle, rhythmic movements of Qigong reduce stress, build stamina, and increase vitality. It has been found to improve cardiovascular, respiratory, circulatory, lymphatic and digestive functions.
People practice Qigong to maintain health, heal their bodies, calm their minds, and reconnect with their spirit. It also creates a balanced lifestyle, which brings greater harmony, stability.
Check it out !
Qigong Club Newsletter See our Coordinator's Message, some reflections on Qigong, and more.
We offer in-person classes at the trico centre for family wellness
as well as online zoom classes
All participants must be FLC Seniors Club members and must join by registering online ($15 annually).
FLC membership for the 2021/2022 year begins on September 1, 2021.
Please click on MEMBERSHIP INFO at the top of this page to find out how to become an FLC member.
In-person classes at Trico Fall 2021:
Classes will run from Tuesday, September 7 to Tuesday, December 13.
Tuesday Spring Forest 9:30 am – 10:30 am Diane Smith (Instructor)
Tuesday Spring Forest 10:45 am – 11:45 am Diane Smith (Instructor)
Thursday Spring Forest 11:00 am – 12:00 am Diane Smith (Instructor)
Fees: $65 for the Fall session. This will enable participants to register for one of the classes above.
In-person class protocols:
For your safety and the safety of others, we encourage all Qigong participants to be fully vaccinated.
As per provincially legislated COVID-19 restrictions, masks must be worn at all times when in the Trico Centre and not engaged in physical activities e.g. walking through the halls, going to the washroom, entering and leaving the Seniors Room, etc.
The number of participants in each class has been limited to approximately 75% of capacity and will usually be below this level.
Masks are optional when practicing Qigong
Hand sanitizer will be made available at the Seniors Room and should be used on entering the room
Attendance will be taken at each class.
Washrooms in the Trico Centre are open.
All water fountains are shut down so, remember to bring a water bottle.
Zoom classes for Fall 2021:
Classes will run from Tuesday, September 7 to Wednesday, December 15.
10:00 am – 11:00 am on:
Tuesdays Level 1 Mario Argento (Instructor)
Wednesdays Spring Forrest Diane Smith (Instructor)
Thursdays Level 2 Mario Argento (Instructor)
Fridays Alternative practice for all levels Mario Argento (Instructor)
Fees: $70 which includes all 4 online classes. Attend as many as you desire.

Registration and Payment for Both Zoom and In-person Qigong Classes:
Members interested in joining Qigong should contact Brenda Zugman, Qigong Coordinator at 403-288-5520 by filling out this e-mail form. ([email protected])
Fall Qigong participants will receive information about payment by email in early August.
Using Zoom
Registered/paid participants will receive:
an email with details of how to download the free Zoom application onto your computer, laptop, or tablet.
details about the Qigong Zoom sessions including a Zoom link, meeting ID number, and access code.
In addition, you can see a simple tutorial about how to get started in Zoom for the first time. Ignore the listing of American phone numbers. Once you are registered for our Online Qigong Classes via Zoom, you will be sent a Zoom invitation with the correct Zoom link you can simply click on, as well as a Meeting ID and Password that can also be used to join the class.
ZOOM Meeting Etiquette:
Please "Mute" yourselves to reduce background noise...it will show as a diagonal line through the microphone icon.
During the social time, unmute yourself if you would like to chat/socialize.
The Zoom host will mute everyone when the Qigong session begins.
If you want to talk/ be noticed - HAND UP or WAVE!
Use the CHAT tool to type messages to the group, or to individuals (select names from the drop-down menu).
Qigong Executive Committee:
A group of dedicated individuals serve as the Executive Committee for the Qigong Club.
Club Coordinator Brenda Zugman
Treasurer Marilyn Smith
Website Coordinator Pam Lester
Class/Membership Representatives Karen Marks
Ann-Louise Van Buuren
For further information contact the Qigong Club Coordinator:

Brenda Zugman 403-288-5520 or by filling out this e-mail form. ([email protected])
Thanks to OpenSky Qigong and Modern Qigong for images.