FLC Seniors

Cycling
In accordance with the directives of Alberta Health we are canceling all scheduled rides until the Covid-19 situation changes. Please check our webpage for updates on this policy. You will receive an email start-up announcement when the coast is clear.
We are disappointed to have to do this but the health and safety of our membership is our major concern at this time.
CANCELLED
Ride Leader Training Session that was planned for Thursday, March 19/20.
2020 Season Start-up Workshop that was planned for Saturday, April 4/20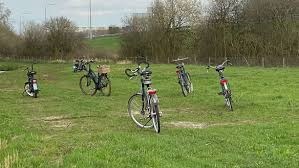 Where in the world has our Old Spokes cycling jersey travelled?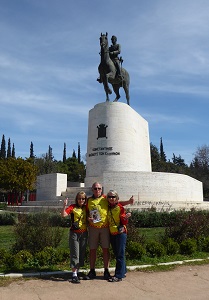 Where in the world are Marilyn & Larry Patterson and Sandy MacDonald? Greece!
Submitted by Marilyn Patterson with these comments:
The 3 of us took our Cycling Jerseys to Greece hoping to be able to cycle but we were evacuated before we had a chance.
This picture was taken in Athens and is a statue of King Konstantinos who was the first King of Greece.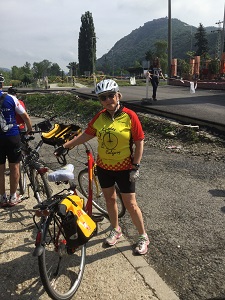 Where in the world is Lynda Fielder? Slovakia!
This picture is in Bratislava, Slovakia, part of a 7-day cycle & boat trip from Passau, Germany to Budapest, Hungary, along the Danube River.
Beautiful countryside. I highly recommend it.
Where in the world are Diane Trimmin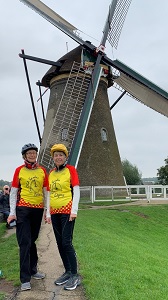 g with Marg Dunphy? Holland!
Submitted by Diane Trimming with these comments:
The shirts did travel from Bruges, Belgium, to Amsterdam. It was quite cold so they were often covered up but they did attract some attention when we were on the boat or indoors for breaks.
Marg and I had to remove several layers to have this shot taken in Holland.

Submit your photos & stories about the travel destinations where your Old Spokes cycling jersey has stood out in the crowd!
Does this remind you of 'Where's Waldo' - Old Spokes style??
Request the FLC Cycling Web Content Coordinator's email address so you can submit your travel photos (and stories) to her email: by filling out this e-mail form. ([email protected])
ABOUT THE OLD SPOKES CYCLING CLUB:
We offer non-competitive rides for pleasure and socializing while exploring our city and environs.
A variety of rides are offered each week from April to October.
Cyclists are responsible for getting to variable start locations.
Annual registration with nominal fee required.
We have 3 levels of cycling so all can choose the level that suits their ability:
Level 1 – Cycle a minimum of 18 km on Tuesdays at a slower pace with fewer hills and more water breaks. Shorter rides of 10 km are available the first three weeks of the season for those of us wishing some preparation.
Level 2 – Cycle a minimum of 30 km on Tuesdays and Thursdays at a moderate pace with some hills and breaks as needed.
Level 3 – Cycle in smaller groups a minimum of 35 km on Wednesdays, and Saturdays at a somewhat faster pace on routes that may include hills. We regroup and stop for breaks as needed.
All Levels - Pedal assist E-Bikes are welcome.
Watch for ride postings on days of the week beyond those designated.
You must be a member of the FLC Seniors Club
and also the FLC Cycling Club to join a Club Ride.
Click HERE to complete Online Registration
Then click on Ride Sign Up link below for more details
Steps to sign up for an Old Spokes Cycling Club ride:
Complete the online Cycling Club Membership process: submit signed waiver form and registsration fee to the Membership Coordinator or Ride Leader to be able to join your first Ride.

Review and abide by the

Old Spokes Cycling Club Rules and Guidelines

to ensure a safe, orderly and enjoyable cycling experience for all.
NEW If you ride an e-bike, review Electric Bikes on Pathways regulations from the City of Calgary. The same rules apply to Alberta Parks pathways like in Fish Creek Park. (For more on Power Bicycles, you can see page 7 of Alberta Transportation.)
AND review FLC Cycling Club Group Riding Guidelines for E-Bike Riders.
Click on the green Ride Sign Up button below to see the rides currently available, enter your Cycling Club membership number and sign up for your choice.
Only those members who have registered for a ride will receive an email by 8:00 AM to notify about ride cancellations.
If you need to cancel after you register for a ride, return to that ride again, enter your membership number again and use the cancel button. Your name will be deleted from the Riders list for that ride.

Ride Sign Up
Scroll down for more information
FLC Seniors Old Spokes Cycling Executive Committee and Responsibilities
How to create a shortcut to the FLC Seniors Old Spokes Cycling website on your desktop
Review these pages to get started in cycling, and to enhance your safety and cycling skills.
Contact & Club President: Linda Edwards Green - (403) 252-8017
Membership: Rick Stothard (403) 281-4582
For all inquiries, contact the Old Spokes Cycling Club
by filling out this e-mail form. ([email protected])